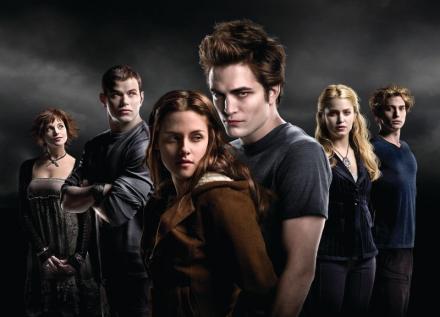 When Michelle's phone alarm went off at 10:45pm we just looked at each other and our face just lit up!!! IT WAS TIME!
The movie, I thought, was REALLY great!
Of course when you take a book and make into a movie they always:
* add new things
* remove parts that (you think) are important
* change things
I think that for the most part they did a fantastic job, straight from the get go. I will admit I was a little nervous about seeing it, I had VERY high expectation, and for the most part the movie lived up to them.
If you haven't read the book, I strongly suggest that you read it before you see the movie. They do have a few lines in there that just sound silly if you don't know what they are talking about, but were too great to leave out of the movie.
Of course a few scenes were FANTASTIC! The Baseball Scene was my all time favorite, along with Doc. Cullen's entrance scene. (YUMMY)
I think out of all the the actors Emmett was was the most yummy!
I didn't want the movie to end, I wanted it to continue to the next books, I could have sat there all night and watch them all! (or this one over and over)
I can't wait until next week when I get to see it again with another SIL.